In this dissertation project the contribution of aerial photographs taken by UAVs to the collaborative positioning of vehicles is examined. A UAV captures aerial photos of the street, depicting vehicles that can communicate with each other and with the UAV. The vehicles have stereo cameras and can thus position themselves relative to each other. Although these relative poses can increase the relative accuracy of the positioning, due to visibility restrictions, an unfavorable block configuration is to be expected. The aerial photographs can support the block geometry due to providing a better overview and linking multiple vehicles. The incorporation of UAV images requires suitable methods to recognize the vehicles in these images and to reconstruct the corresponding vehicle geometry. The corner points of the reconstructed vehicles can on the one hand serve as tie points for positioning the vehicle models in the object space; on the other hand, in this way the vehicle model can be consistently estimated from the total available information (stereo images from the vehicles, UAV images). At the same time, a collaborative tracking of the objects over time during which they can be observed by the UAV should take place. Compared to the vehicle reconstruction process already developed in the context of i.c.sense, the challenge lies in the absence of stereo information as well as in the unfavorable viewing direction for the use of pre-trained classifiers. Furthermore, the problem of collaborative tracking has to be solved. For evaluation, real-world data will be recorded at street intersections with a UAV and several vehicles equipped with stereo cameras as part of the central experimentation facility.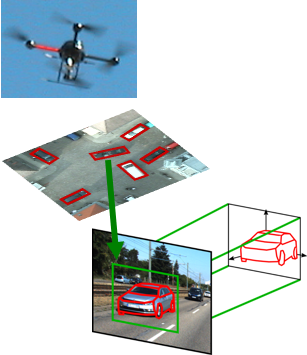 Publications
Molina, P.; Blázquez, M.; Cucci, D.A.; Colomina, I. (2017). First Results of a Tandem Terrestrial-Unmanned Aerial mapKITE System with Kinematic Ground Control Points for Corridor Mapping. Remote Sens. 2017, 9, 60.
Coenen, M.; Rottensteiner, F.; Heipke, C. (2018). Recovering the 3D pose and shape of vehicles from stereo images.. ISPRS Annals of the Photogrammetry, Remote Sensing and Spatial Information Sciences IV-2, pp. 73-80, 2018.
Address
Institut für Photogrammetrie und GeoInformation
Nienburger Straße 1
30167 Hannover
apl. Prof. Dr. techn. Franz Rottensteiner
Address
Institut für Photogrammetrie und GeoInformation
Nienburger Straße 1
30167 Hannover
apl. Prof. Dr. techn. Franz Rottensteiner